Hey guys, Michelle here. We hosted our food pantry in Horse Shoe Bend today and it was even more amazing than normal. The weather forecast was a rough one; severe weather and heavy rain was predicted for the duration of our outdoor food pantry. Tony and Mandi got there even earlier than normal to make pancakes so we could give people breakfast to-go so they could get home before the storm.
Instead of setting up in the parking lot of First Baptist Church of Horse Shoe Bend like normal, we decided to set up under an awning in their yard. Unfortunately, when Tarrant Area Food Bank delivered the pallets of food, they couldn't unload the pallets under the awning, so they unloaded the pallets in the parking lot.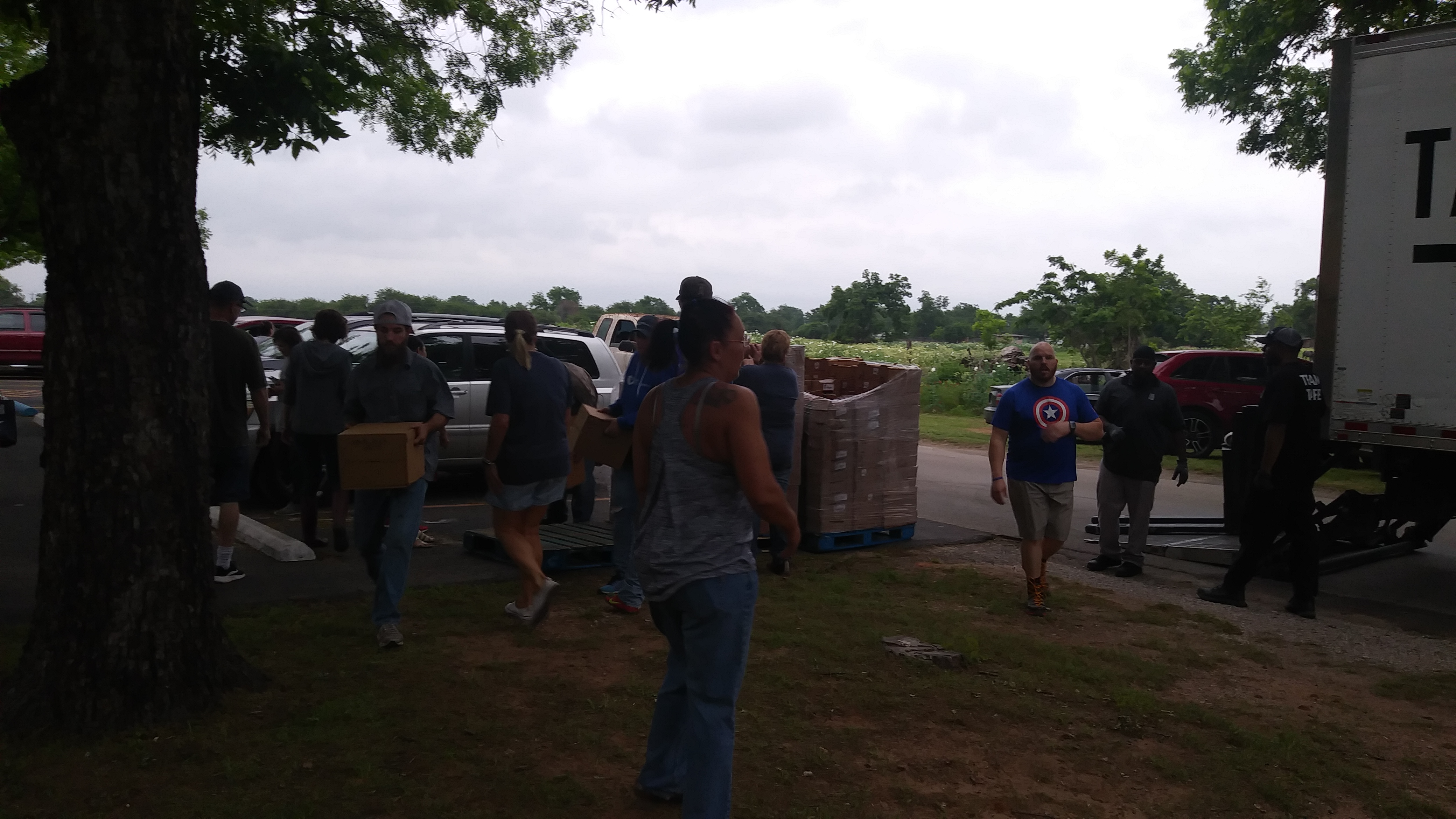 Guys. We had 25+ volunteers unpacking the pallets and carrying the heavy boxes to the covered area so people could shop for food out of the rain! It was incredible. Then those same volunteers hustled to unpack those boxes and help people take the food to their vehicles before the storm hit.
I start praying for the monthly food pantry a week before. Praying that the families that need food get it. Praying that we continue to build relationships with the residents in this community. Praying our volunteers are healthy, "filled up", and ready to serve. Praying that, no matter what, Jesus is at the center of all we're doing here. And occasionally praying away the rain. Would you join me in lifting up this community and this food pantry and First Baptist Church of Horse Shoe Bend?
I can't tell you how overcome I am today. Our volunteers are amazing people and I'm overwhelmed with their willingness to serve (under a tornado watch and threat of rough weather). We're from about a dozen different churches, 10 to 90 years old, from a lot of different backgrounds, experiencing abundant blessings and struggling with our own stuff. Somehow, God uses all of us broken people to pull this off every month and I'm so, so grateful.
If you want to get involved with Hearts Full of Love, I highly recommend serving at the HSB food pantry. I promise to find a job for you. And I promise you'll leave grateful for the ability to serve. Email me at Michelle@heartsfulloflove.org and I'll get you the info.
Oh, and God held off the storm till the food pantry was over- because He's good like that.