Serving Parker County
We serve the homeless in Parker County by referral, outreach, and going to areas where we receive reports of people living in uninhabitable conditions. Support can include food, water, sleeping bags, warm clothing and assistance with local programs and resources. We know that by building trust and meeting basic needs, we can share the love of Christ with an under-served population in our community.
Breakfast Blessing & Food Pantry
On the 3rd Saturday of each month Hearts Full of Love hosts a Breakfast Blessing and a mobile food pantry in Horseshoe Bend. Horseshoe Bend is a Parker County community located just south of Weatherford. The community comes out to enjoy a free hot breakfast including juice, coffee, and great conversation. The mobile food pantry is open at the same time and is available to anyone in Parker County and includes fresh produce and kitchen staples.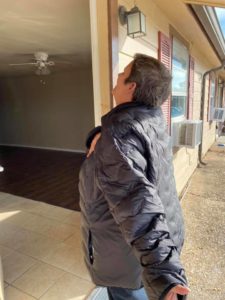 Rapid Re-Housing
This federally-funded program managed by Hearts Full of Love helps the homeless to solve the immediate challenges of obtaining permanent housing by connecting them to resources that allow them to achieve housing stability and avoid returning to homelessness. We believe Rapid Re-Housing is a critical part of a community's effective homeless crisis response system by reducing the amount of time someone is homeless.
Front Porch Friends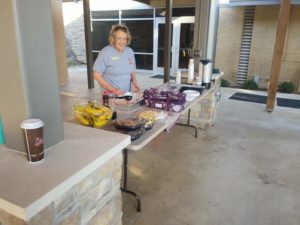 Every Saturday morning, we serve the homeless in Parker County on the front porch of Central Christian Church. We give out a hot breakfast, coffee and juice, hygiene kits, water, and food to go. We also present the opportunity to participate in the Lord's Supper. This is an excellent, casual way for our homeless friends to get connected with Hearts Full of Love and a perfect opportunity for new volunteers to get involved with the Hearts Full of Love ministry. 
---
Join Us Each of our ministries has the opportunity for more volunteers- individuals and groups. Contact us for information on how to get involved by emailing laurie@heartsfulloflove.org
Donate We often have needs for clothing, food, household items, hygiene kits and more.
Give Hearts Full of Love is a designated 501c3 organization. Your gift is tax deductible and very much appreciated.